Bob Tame - Home Page


"Life is Short
Drink the good wine first"
Here I am, having fun in a rally car at Silverstone in 2005. This was a birthday present from Glyn. She got the idea when we went for a drive through Kielder Forest on an unsurfaced track with a 25mph speed limit. (See Northeast Photos page) (The track through Kielder is occasionally used by rally cars for whom the speed limit does not apply!)
---
What's on this website:
---
Who am I?
This is me, some time ago------------->
(there was a recent photo here once but my sister said it would frighten the visitors!!). Point (your mouse) at the picture to see why I'm laughing
I was born on Cannock Road in Wolverhampton just before Wolverhampton Wanderers won the F.A. Cup in 1949. I followed the Wolves during the 50's and 60's.
My school life started at Woden Road Infant and Junior School, and continued between 1959 and 1964 at Wolverhampton Municipal Grammar School . (the Muni!)
I left after O'levels and began an apprenticeship with Post Office Telephones, later to become BT, where I eventually worked for 31 years. While in Wolverhampton I was also a menber of the REMO Players Amateur Drama Group
I lost touch with most of my school friends after I left school but I have now joined the WMGS old pupils association and have created a Web site which may be of interest to ex-pupils. Please click on the school name above to find out more.
I married in 1971 and have three children (girl, boy, girl)
I left Wolverhampton in 1979, moving to Stone in Staffordshire when I went to work as an instructor/Lecturer at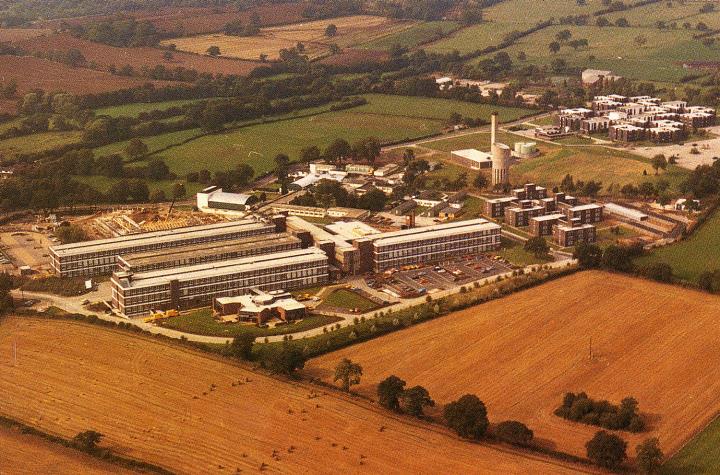 British Telecom Technical College, YarnfieldAn aerial view of the British Telecom Technical College at Yarnfield, near Stone, looking north-west.The General Post Office Engineering Department Central Training School opened in Yarnfield in 1946. ...View Full Resource on Staffordshire Past Track
I moved again in 1987 to Northampton when I moved to work in a BT head office department in Milton Keynes.

Leaving BT in 1996, I worked as a Technician for
until July 2003 but after a complete career change I worked as an admin clerk for Northants Police for about four years before retiring to South Devon in 2008.

---
Are you interested in Art?
---
Some of my other hobbies and interests.
---
Family History
I am interested in family history and have traced my line of the TAME family back to 1806 in Marcham near Abingdon in Oxfordshire. (Previously Berkshire). For more info on the origin of the name TAME click here. As a result of the web site I have been successful in contacting others researching the same name.
My Mothers Maiden Name was Proom (Originating from Tyneside) and I have some info on Prooms and know someone who has much more.
Glynis, my wife has parentage that is all Welsh, before marrying me she was an "Evans" descended from "Edwards" and "Morgan" - (probably Morgan the Pirate!) We now have a cat called "Morgan"
Glynis's main hobby is amateur dramatics and she is currently a member of the TOADS and the SADS groups in Torquay, check her web page for details.
Back to Top of page.
---
Snooker
When I worked at BT's Technical College in Yarnfield, Staffordshire (1979-86) I used to organise an Inter-department Snooker League (with over 100 players) and I used to play a bit of snooker (not that well) when I had the time. (Best ever break = 27)
The highlight of my snooker playing days was reaching the final of a weekly competition at Pontins Holiday Camp, Brixham in 1983 and as a result I then played Six Times World Snooker Champion Ray Reardon in an exhibition game. I scored 8 points and then missed a red ball. Ray came to the table and compiled a break of 102. He made it look so easy! Here we are after the game.
I gave up playing snooker when I took up outdoor bowls at Northampton West End Bowls Club in 1990, and played there until I left Northampton in 2008 (although when I'm playing outside on a rainy afternoon I sometimes wonder why!). I do now play a couple of frames of Snooker each week at the Conservative Club in Paignton
I now play bowls at Marldon Bowls Club
---
Wolverhampton Municipal Grammar School
I was a pupil at WMGS (The Muni) from 1959 to 1964. My three sisters were also there, as follows:- Rosemary 1961-68, Dorothy 1968-73 and Mary 1972-77. I am a member of the Old Pupils Association and have created a web page for Ex Pupils which I am slowly developing with the help of other pupils. The page includes a few old school photos .
If you were at the Muni when I was then I'd love to hear from you. Please email me.
---
Credits:-
The pages on this site were produced using "AOLpress and Microsoft Frontpage Express" and with a bit of HTML editing in Notepad and CuteHTML.
Animation is from the animation factory (www.animationfactory.com)
The page is designed for viewing with Internet Explorer 5 or above but should work with other browsers.
Go back to List of Hobbies
Go back to top of page
---
Links to other sites:
---
TRIVIA
---
"A woman always has the last word in any argument - anything the man says after that is the beginning of another argument"
Postscript:
Never test the depth of the water with both feet.
End of page.
---